Our No Win No Fee Employment Solicitors
Do I Have A Case? provide highly experienced no win no fee employment solicitors, working alongside their clients to provide the best possible outcome to any dispute arising with an employer. Our employment lawyers provide specialist advice on employee rights in the workplace and are experts in all aspects of employment law.
Nationwide Employment Solicitors
Our specialist employment solicitors work predominantly on a no win no fee basis and are able to represent anyone within England, Scotland and Wales at an Employment Tribunal.  In addition, we have links to a number of other employment law experts throughout the country who work in the same way. Our nationwide coverage includes: London, Southampton, Bristol, Bath, Exeter, Birmingham, Leeds, Manchester, Liverpool, Newcastle and Sheffield.
'no obligation advice'
Our friendly, legally qualified team of advisors is able to discuss any situation you might be experiencing at work. You can call our helpline on  [phonenumber] for free, no obligation help and advice or you can submit a case enquiry and we will call you back to discuss your situation as soon as possible.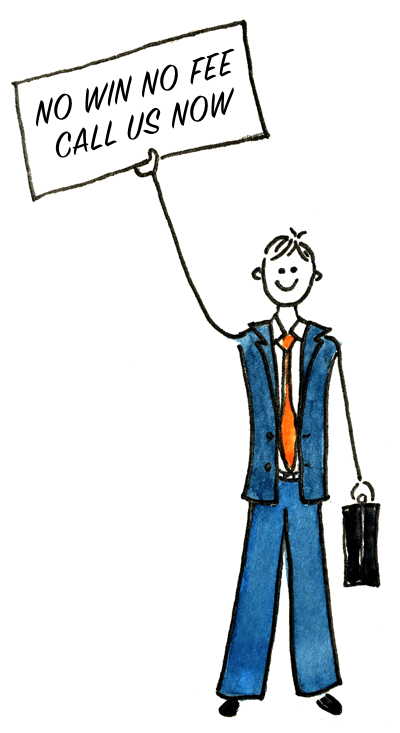 'Frequently encountered problems'
Our no win no fee employment solicitors are experts in helping with a variety of work-related issues.  Some frequently encountered problems are listed below but if you feel that you would like some initial advice then do not hesitate to call us.
If you have been dismissed on the spot or feel that the reason your employer has given for dismissing you is false or unfair then there is a strong possibility that you have been unfairly dismissed.
Since 6th April 2012 the law has required you to have 2 years service (worked for your employer for 2 years)  in order to make a claim for unfair dismissal.  There are, however,  some circumstances, such as a whistleblowing; discrimination or asserting a statutory right, which allow you to make a claim unfair dismissal even though you may not have worked for your employer for two years. Our employment lawyers can help you decide if you are able to make an unfair dismissal claim.
Sometimes a situation at work becomes so difficult to cope with or is so serious that you feel you have no choice but to resign immediately.  Resigning in these circumstances is known as constructive dismissal.
Whilst we would never advise you to take such a serious step, without first taking advice, our employment solicitors may be able to help you present a claim for constructive dismissal on a no win no fee basis.  It is worth remembering that submitting a formal complaint or grievance to your employer may be a better way of resolving a difficult situation.
Often, showing that you have tried to handle a situation through your employer's internal procedures is looked upon favourably by employment tribunals.
We appreciate that being made redundant is extremely stressful.  That situation is made worse if your employer has not followed procedures correctly or if  they have hidden what is in fact an unfair dismissal by making you redundant.  In such circumstances you may be able to make a claim for unfair dismissal or unfair redundancy.
Employers must follow strict procedures when making employees redundant.  They must be very careful about choosing who is to be put at risk of redundancy and they must then make their selection from the pool of those at risk fairly.  Your employer should also have taken any steps that could be taken to find alternatives to redundancy.  For example, offering part-time work; moving employees to other available positions; reducing hours or considering job shares.
Look at your contract or staff handbook it may provided details of your rights to redundancy pay.  Even if your contract is silent on this issue you will still be entitled to redundancy pay if you have been employed for more than 2 years.
If you have recently been made redundant and you feel that your employer has not followed procedures correctly then please do not hesitate to contact our no win no fee employment law solicitors on [phonenumber].  
The Equality Act 2010 prohibits discrimination on the basis of the 'protected characteristics' of age; gender; marriage or civil partnership; sexual orientation; pregnancy; disability; race or religion.  Our no win no fee employment law solicitors are experts in bringing discrimination claims.  They can help you to assess problems that you might be having at work and advise you how best to resolve them.  They can give you expert advice if you have suffered discrimination in the workplace.
Victimisation
The law against victimisation is designed to prevent employers from treating employees less favourably because they have made a complaint about discrimination, presented a case to a tribunal or given evidence on behalf of a colleague.  if you feel that this has happened to you then you could consider taking advice from one of our no win no fee solicitors who are all experts in employment law.
Harassment
Any unwanted conduct which concerns one of the protected characteristics mentioned in the discrimination section above is unlawful.  The Equality Act 2010 defines harassment as unwanted conduct which has the effect of violating a person's dignity or creating an intimidating, hostile, degrading or offensive environment.  Anything which might cause offence is harassment so colleagues making jokes, sending emails, looking at offensive websites or engaging in misguided banter would be included.  If you have found work an unpleasant place to be as a result of this sort of behaviour by management, colleagues or customers then our employment law experts may be able to help you on a no win no fee basis.
Maternity Rights
The four most important rights of pregnant women and new mothers are
the right to take paid time off for antenatal care;
the right to maternity leave;
the right to maternity pay and benefits
and the right not to be treated less favourably, dismissed or selected for redundancy as a result of being pregnant.
Even in today's seemingly enlightened world our no win no fee employment law solicitors handle a great many cases in which pregnant women have been treated badly by their employers.  If you would like some free information and initial advice please call our helpline on [phonenumber].  Your call will be answered by a member of our legally qualified team who can help you decide your next step.
Whistleblowing
When a worker reports wrongdoing in the workplace they are described as having made a 'protected disclosure'.  More commonly known as whistle blowing, bringing issues to the attention of management or an appropriate outside body can take a great deal of courage.  In order to encourage people to come forward when issues such as health and safety are at stake, recent changes to whistleblowing legislation prevent workers from being treated unfavourably after they have 'blown the whistle'.  Such employees must not be dismissed, disciplined, selected for redundancy or denied promotion for bringing wrongdoing to attention.
Transfer of Undertakings Protection of Employment (TUPE)
When a business is taken over by another business then, in many circumstances, employees are entitled to retain the same rights as they enjoyed prior to the take over.  The regulations which govern the rights of employees in transfers are known as TUPE and are relatively complicated.  If you need expert advice from an no win no fee employment solicitor then please do not hesitate to contact us.