Last updated: 13th May 2021
The 3 crucial questions you need to answer before considering a claim for constructive dismissal.
If you believe your employer's behaviour was so bad it left you no other option but to resign, and are thinking of making a claim at Employment Tribunal, there are many important things to consider.
Constructive dismissal is an exceptionally difficult area of law to prove beyond question, relying on a good deal of substantive evidence to support a claim.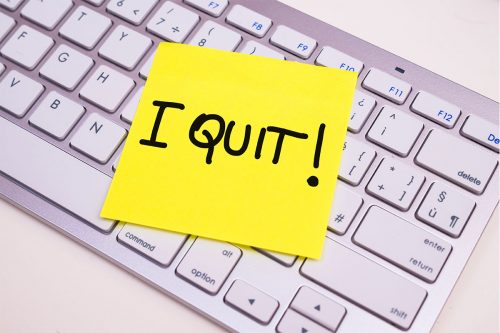 With only a very small number of claims being successful, and with resignation being such a big step, we want to help you understand the 3 crucial questions that need to be answered before you consider making a claim:
What is Constructive Dismissal?
How do you prove it?
What's the best way to resign when bringing a claim?
Because the burden of proof in this type of case lies very much with you, rather than your employer (as in unfair dismissal cases), we will also give you some useful information that will help determine if you have a case and it's likelihood of success.
1.What is Constructive Dismissal?
In the first instance, you need to be aware that the correct legal terminology for this type of claim is actually 'constructive unfair dismissal' as it falls under the category of unfair dismissal.
However, you need to know from the outset that it is markedly different from a normal dismissal.
In the simplest of terms, a constructive dismissal claim is where you deemed your employer's actions breached your employment contract so fundamentally that you were left with no other choice but to resign.
To stand any chance of success at Employment Tribunal, you will need to demonstrate that your resignation was a consequence of a fundamental or 'repudiatory breach'.
Such a breach can relate to either an express, or implied term in your contract of employment. The essential thing for you to remember though is that the strength of your case will be determined by it being classed as a 'repudiatory breach' rather than a minor one.
ESSENTIAL FOR YOU TO KNOW
Even if you believe your employer's conduct was bad, you need to ask yourself:
"Was it bad enough to make remaining in my job impossible?"
---
What is a repudiatory breach?
A repudiatory breach is a breach of contract so serious the tribunal will deem it entitled you to resign.
Often referred to as 'going to the root of the contract', such a determination would need to be made by the Employment Tribunal and is a complex consideration.
Where you have resigned due to a 'last straw' event, the tribunal will closely analyse all of the incidents you cite to that point as part of your claim. The tribunal will reasonably expect that your claim form will contain specifics, including dates, to help them determine:
Whether the events you cite happened
And if they did, whether individually or together they constitute repudiatory breaches of your contract
Repudiatory breaches of contract – some examples.
Your employer is unreasonably overloading you with excessive work
Imposing additional duties or removing existing duties
Forcing you to carry out your work in an unsafe or substandard environment

Where your employer has failed to deal with a grievance you have raised. Or, similarly where they have failed to carry out a disciplinary process fairly or in line with procedure.
Where your employer has unilaterally cut your salary or has not paid your wages
Is it better to resign after a single breach, or a chain of events?
You may have deemed your continued employment untenable as a result of a single repudiatory breach by your employer. If so, there is no benefit to you in delaying your resignation.
But, you can also pursue a constructive dismissal claim on the basis that you resigned because of a 'last straw' in series of misconduct events by your employer.
Don't rely on 1 or 2 minor breaches making your case!
To determine how many breaches before resignation, you should consider (as the tribunal will) what a 3rd party observer would see as establishing a pattern of behaviour.
Can I resign because I believe there is the possibility of a future breach?
If you believe there is a reasonable chance that your employer will make future breaches to your employment contract, you can resign. For example, The Employment Tribunal could see your resignation as justifiable if your employer threatened to cut your pay in the future, or to demote you.
What's an express term?
An 'express term' is one specifically stated and agreed within your employment contract. Such terms will related the statutory terms that are part of employment law, such as:
Your salary
Your job description
Your holiday entitlement
ACAS will give you a good idea of the express terms you would expect to be included in your contract of employment.
So, what's an implied term?
Your contract of employment will included a number of 'implied terms' which do not need to be set out in writing as they are established through common law, custom or practise.
The most important implied term in the case of constructive dismissal is a 'duty of trust and confidence'. A duty between an employer and employee to act in a way, so as not to destroy that relationship.
A common example of this is if you feel you are being bullied in the workplace.
---
---
2. How do you prove Constructive Dismissal?
As already stated, constructive dismissal cases are notoriously difficult to run successfully. So, to increase your changes of bringing a successful claim at Employment Tribunal, you will need to prove 3 key things:
Your employer committed a repudiatory breach of your employment contract
Your resignation was a direct response to this misconduct
You did not waive or affirm this breach of contract by your employer
ESSENTIAL FOR YOU TO KNOW
Do not fall into the common trap of waiting too long to resign!
If you continue to work for a number of months after a breach (or series of breaches) the Employment Tribunal could assert that you accepted or 'affirmed' the behaviour/misconduct of your employer.
I.e Your employer's behaviour could not have been so bad, or effected you badly enough as you have been prepared to remain in your job.
---
Weighing up the financial reality of walking out of your job versus the risk of weakening your claim will be a very difficult decision to make.
It's not uncommon for a claimant to wait until they have secured alternative employment before resigning, but such a delay can significantly reduce your chances of achieving a successful outcome at tribunal.
Similarly, unscrupulous employer's that suspect they may be liable to a constructive dismissal claim will often engineer situations, such as starting a disciplinary procedure against you for something relatively minor, thus extending the timeframe.
Commonly known as 'managing out' an employee, this is done in the knowledge that any delay will reduce your chances of success.
When should I resign?
In short, the quicker you make the decision to bring your employment to an end, the stronger your case will be. So, resign promptly and unambiguously!
This will demonstrate to the tribunal that you felt your relationship with your employer could not be reconciled and you were left with no other option but to resign.
As stated by Lord Denning in the case of Western Excavating (ECC) Ltd v Sharp [1978]:
'the employee must make up his mind soon after the conduct of which he complains. If he continues for any length of time without leaving, he will be regarded as having elected to affirm the contract and will lose his right to treat himself as discharge'
What if I delayed resigning because I was on sick leave?
Being on sick leave could justify a delayed resignation. However, sick or not sick, the longer you delay resigning, the more likely it will be for the tribunal to find that you accepted the breach on which you have based your claim.
It's advisable in this type of situation to make your employer aware (in writing) of your objection to their breach of contract.
3. What's the best way to resign when bringing a claim?
ESSENTIAL FOR YOU TO KNOW
When you are writing your resignation letter you should:
Not

include statements such as "I will miss you all" or "I've enjoyed my time at the company"
Over elaborate on the details. Save that for when you make your claim.
---
Although you should not over elaborate, you must set out the reasons for your resignation.
These will form the basis of your claim. Unless they are cited the Employment Tribunal may determine that you left for a different reason.
You must demonstrate that your resignation was due to your employer's repudiatory breach of your employment contract to be successful in your constructive dismissal claim.
What to do if you think you have a claim
Whilst we have made you aware that constructive dismissal claims are notoriously difficult to win, the Do I Have A Case team have helped many employees like you be successful at Employment Tribunal throughout the UK.
Where we feel you have a viable case, we will look to represent you on a no win no fee basis, meaning you only pay for if we successfully win your case.
So, why not speak to us today. You could get a preliminary assessment of your case by calling 0800 014 8727 or 020 3923 0888. One of our knowledgable and approachable team will be happy to help.
Alternatively, you can always submit details of your potential claim via our quick and easy online enquiry form. We will assess your case and respond to you via email, text or phone, no more than 48 hours later.
---
Some frequently asked questions about constructive dismissal
Don't I need to raise a grievance before resigning?
This is quite a tricky question to answer, but it depends on the facts of your case.
On the one hand, within the Overiding Objective, parties are encouraged to try and resolve issues without the need to resort to legislation. Constructive dismissal cases have been successful where the grievance process has been exhausted prior to resignation. But equally, a significant number have been unsuccessful because of a claimant's failure to resign immediately.
On the other hand, a grievance could not remedy a repudiatory breach as by definition they cannot be repaired. Even if your employer upheld your grievance, their actions would demonstrate that they were confirming their breach of contract.
The best way to remove any issue of delay and strengthen your position, would be to resign and then raise a post-dismissal grievance
Should I resign without notice if pursuing a constructive dismissal claim?
No, you are still able to advance a claim if you give notice.
In most cases though where an employee has been treated so badly that they feel they have no other option but to resign, they either give a shorter notice than required, or leave with no notice.
I know constructive dismissal is difficult to prove, so will you represent me on a no win no fee basis?
In the first instance we will always look to represent our clients on a no win no fee basis. We believe passionately in providing access to justice and have helped many clients, who without our no win no fee policy, would not otherwise have been able to afford legal representation.
Whether you qualify, will come down to the viability or strength of your case.
Where appropriate we also offer alternative payment arrangements and recommend checking to see if you have Legal Expense Insurance as part of an existing insurance policy. Many people don't realise they have it, and it can often be used to advance a claim at Employment Tribunal.