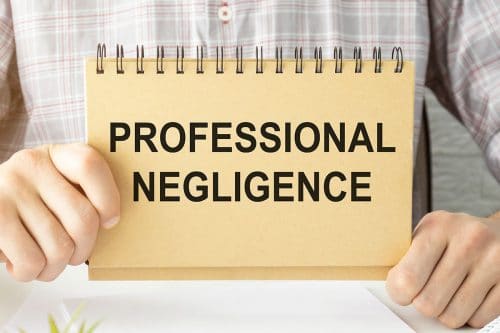 If you have suffered a detriment as a result of Professional Negligence, we can help
What is Professional Negligence?
Professional negligence occurs when a professional (i.e. solicitor, accountant, architect, surveyor etc) fails in their responsibilities to the required standard.
Where you have engaged the services of a professional, you may be in a position to bring a claim against them, where they have been in breach of:
A Contractual Term

A Duty of Care (within the tort of negligence)
Their Fiduciary Duty
Their Statutory Duty
The following information will primarily look at the breach of a professional's 'duty of care' within the tort of negligence. This includes the elements of the tort; the factual and legal causation.
The starting point for the modern tort of negligence goes back to Donoghue v Stevenson [1932]. This case involved the Claimant finding a decomposed snail within a bottle of ginger beer and because of it suffered shock and gastro-enteritis. Lord Atkin put forward the following comments relating to duties of care.
In English Law there must be, an is, some general conception of relations giving rise to a duty of care…The liability for negligence, whether you style it such or treat it as in other systems as a species of 'culpa', is no doubt based upon a general public sentiment of moral wrongdoing for which the offender must pay. But acts or omissions which any moral code would censure cannot in a practical world be treated so as to give a right to every person injured by them to demand relief. In this way rules of law arise which limit the range of complainants and the extent of their remedy…you must take reasonable care to avoid acts or omissions which you can reasonably foresee would be likely to injure your neighbour. Who…is my neighbour? The answer seems to be – persons who are so closely and directly affected by my act that I ought reasonably to have them in contemplation as being so affected when I am directing my mind to the acts of omissions which are called in question
Elements of the tort of negligence
Following the statement of Lord Atkin it is possible to break the tort into 3 points that need to be established. They are as follows, that the Defendant:
Owed a duty to the Claimant

Breached the duty owed to the Claimant
The breach of duty caused the Claimant to suffer recoverable loss
The Duty of Care
The laws surrounding the duty of care are quite varied and there are a number of tests which have been created to ascertain whether a duty is owed to them.
The starting point for any duty of care discussion is the test established in Caparo Industries v Dickman [1990]. This test asks whether:
The damage which occurs is forseeable.
There is a sufficiently proximate relationship between the parties.
It is fair, just and reasonable in all the circumstances to impose a duty of care.
The next test to consider is that of Henderson v Merrett Syndicates [1994]. Within this test the question is asked whether the defendant has undertaken a responsibility towards the claimant to exercise reasonable care and skill.
The Final test is where the law recognises cases where duties are owed by comparing them with existing cases where a duty of care is owed.
It is unfortunate that there is no legislation pinning down exactly when a duty of care arises in situations, however, by this point the level of case law is quite considerable so in more occasions than not, a duty will likely to have been established.
The Breach of Duty
A person who owes a duty of care at common law will breach it if they fail to use reasonable care when performing their duty. When asked what exactly reasonable care is, this is the standard of a hypothetical "reasonable man". It comes from the case of Hall v Brooklands Auto-Racing Club, and is as follows:
The person concerned is sometimes described as 'the man in the street,' or 'the man in the Clapham omnibus'…such a man taking a ticket to see a cricket match at Lord's would know quite well that he was not going to be encased in a steel frame which would protect him from the one in a million chance of a cricket ball dropping on his head.
However, it should be noted that in certain cases the standard of care required by the defendant will be heightened. In this case the standard of care applied to professionals is that of a "reasonable professional", i.e. in a professional negligence claim against a lawyer it would be of a reasonable lawyer rather than the reasonable man. This is known as the Bolam test and originates from Bolam v Friern Hospital Management Committee [1957].
There are no degrees of negligence when it comes to considering whether a breach of duty has occurred. The Defendant will have either taken reasonable care (be it professional or that of the reasonable man) or they won't have.
Has the breach caused the Claimant to suffer loss?
The Claimant must show that the Defendant's professional negligence caused them to suffer loss. The idea of Causation is broken down into two categories factual causation and legal causation. Both need to be satisfied for liability to be established.
Factual Causation
As the Claimant, you will need to show that you sustained loss as a matter of fact due to the Defendant's professional negligence. I.e. But for their carelessness, you would not have suffered any loss.
So, your claim will fail if:
You would have suffered loss in the absence of the Defendant's professional negligence

The true cause of your loss was something other than Defendant's carelessness
If, a combination of events caused your loss (and professional negligence was responsible for only one of those events) the court needs to decide whether the other events broke the chain of causation between the negligence and the loss. The court will consider there to be a break when there is a new (and independent) cause of the loss. As in, it was not the effective cause of that loss.
You cannot merely prove that the Defendant increased the risk of sustaining loss.
Legal Causation
Even if the 'but for' the Defendant's professional negligence test is passed, this does not mean that there is automatically confirmation of causation. You also need to show that the negligence was legally the cause of your loss. The clearest example of that is within the Judgment of Lord Hoffman within Banque Bruxelles Lambert SA v Eagle Star Insurance Co Ltd [1995].
A mountaineer about to undertake a difficult climb is concerned about the fitness of his knee. He goes to a doctor who negligently makes a superficial examination and pronounces the knee fit. The climber goes on the expedition, which he would not have undertaken if the doctor had told him the true state of his knee.He suffers an injury which is an entirely foreseeable consequence of mountaineering but has nothing to do with his knee.
In this instance, the doctor is not liable as the injury the mountaineer sustained was not within the scope of the doctor's duty when he inspected the mountaineers knee.
Foreseeability
A third strand of causation but primarily linked with legal causation is that of foreseeability. As the Claimant, your loss must have been a foreseeable consequence of the defendant's breach of duty. The loss must be reasonably foreseeable to be recoverable.
What to do next?
If, having considered the above legal tests, you believe that you have a viable professional negligence claim, please get in touch with us to discuss your legal options.
Our professional negligence solicitors have a wealth of experience in helping individuals get the justice they deserve.
You can speak to one of our helpful team today by calling 0800 014 8727 or 020 3923 0888. Alternatively, you can also submit your details via our quick and easy online enquiry form.
Once we have received your information we will review it and respond to you within 48 hours by phone, email or text.