Research Identifying Risk of Miscarriage for Night-shift workers
New research from the Fertility Centre at University Hospital Southampton has found a significant increase in the incidence of miscarriage among pregnant nightshift workers when compared to women who work nine to five.
The study, led by Dr Linden Stocker and Dr Ying Cheong, considered the reproductive outcomes of 119,345 women.  They found almost a third of women (29 per cent) who worked night shifts had an increased rate of miscarriage.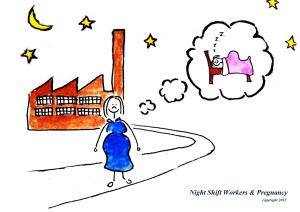 Requirement on Employers to carry out Risk Assesments
Regulation 16 of the Management of Health and Safety at Work Regulations 1999 places a duty on employers to carry out a risk assessment in respect of new or expectant mothers.  These new findings, which reveal that continuous night-shift work may cause harm to expectant mothers and their unborn children, will have to be taken into consideration by employers for the purposes of carrying out risk assesments.
Click here for the Health and Safety Executive's (HSE) guidance in this matter or here for information on risk assesments.
Having identified a risk then the employer should take steps to avoid that risk by taking  preventive and protective measures.  In other words, pregnant employees should not work on continuous night-shifts because of the increased risk of miscarriage.  The options left open to the employer are:
(a) altering working hours, if it is reasonable to do so and would avoid the risk;
(b) offering suitable alternative work.
In the event that neither (a) or (b) proves feasible employers must suspend pregnant employees on full pay as required by the Employment Rights Act 1996.
What to do if your employer refuses to change your working hours or dismisses you because you are unable to continue working night-shifts?
You must make a formal grievance against your employer.  You may find information about how to do this in your contract or staff handbook.  If not, make sure you make a written complaint to your employer who must investigate your grievance.
If, having made a formal grievance, the situation is not resolved then you should consider taking your case to an employment tribunal.  You are entitled not to be treated unfavourably when you are pregnant under the Equality Act 2012 (see link to pregnancy and maternity discrimination).
Do not hesitate to call us now for free impartial advice – 0800 0148727